NEW THIS YEAR!  KING PIN SOPONSORS MAY ADD A LANE OF BOWLING (UP TO 6 BOWLERS) FOR AN ADDITIONAL $100.00. PLEASE CONTACT US AFTER MAKING YOUR DONATION IF YOU'D LIKE TO ADD A LANE!
In 2007, after a long and hard fought battle, Helen Wichmann lost her life to Ovarian Cancer. After months of chemotherapy, radiation, surgeries and extended hospital stays, Hospice of the Bluegrass (now Bluegrass Care Navigators) made it possible for her to spend her last days on this earth at home, pain free and surrounded by family and friends.
Our experience, as her family, in Mom's last days made a lasting impression on us. After having watched Mom suffer for so long, we were so grateful to Hospice for giving us that time with her. We were also extremely touched by the number of visitors and the out pouring of love and support from our family and friends.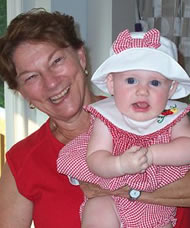 After Mom passed, we established the Helen Wichmann Memorial Fund with three things in mind. First, we wanted to find a way to show our gratitude to Hospice. The time they gave us was very precious. Second, we wanted to continue to celebrate Mom's life and honor her memory along with our family and friends. Finally, we wanted to find a way to help others affected by cancer and facing the loss of a loved one. With those goals in mind, we created the Yellin' Helen Strike Out Cancer Bowl-A-Thon.
The Bowl-A-Thon is a day of family, friends and fun for a good cause. We host a bowling tournament, silent auction and raffle.   In fifteen years hosting the Bowl-A-Thon, we have raised $258,000.00 which we donated to Bluegrass Care Navigators (formerly Hospice of the Bluegrass, Northern Kentucky)  and to the American Cancer Society.
Please join us on March 18, 2023 at Super Bowl, Bellewood in Newport, Kentucky.  Registration is open now.   This year we will again have two time slots for bowling at 11:00 A.M. and 2:30 P.M. As always we will have lots of great auction items and prizes. Visit our Registration page to sign up your bowling team.  Please visit our Donate page to make a donation and to see a list of all our sponsors.
Thanks to everyone for your continued support. Please help us make this year another successful event!
The Wichmann Family